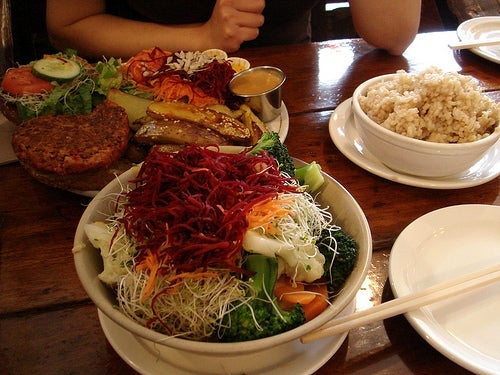 This is the restaurant that made me move to Vancouver. To give a bit of color around this bold statement let me also say that I had been traveling for over a year, my pocket book was thin, and I was largely eating non-meat meals. This is a place that makes travelers feel at home. The Naam delivered a healthy and generous sized meal in the vegetarian salisbury steak with a miso gravy sauce on top of my mashed potatoes and vegetables. I ate the whole thing, ordered a giant slice of carrot cake, and kicked back and listened to the sounds of a guy jamming on the sitar. That was 8 years ago! You know what, I don't think much has changed. The Naam is still crowded, the wait staff is still slammed, the food is still good, and the music is still interesting.
Standout dishes include a variety of salad bowls including the Dragon Bowl pictured below, veggie burgers, rice bowls, and soups. I'm getting hungry as a type this.
What some people may not know is that the Naam stays open 24/7. Yep, you can hit the bars in Kits late into the morning and swing by the Naam for a fat plate of pancakes before finding your pillow. If there is one restaurant that speaks to the history of Kits it has to be the Naam. Swing by and dig in, just don't expect a white tablecloth.